When your workers are in a confined environment, safety and compliance are top priorities. Rescue Solutions can help protect the safety of your people and limit your company's liability by assigning a confined space team to help you plan for every contingency.
Our teams have the knowledge and experience to develop and execute a rescue plan for your space. We provide continuous atmospheric monitoring, ventilation, medical trauma kits and emergency retrieval systems.
Each two person team comes equipped with:
Atmospheric monitoring capabilities
Supplied air for entry into IDLH atmospheres
Trauma kits for immediate treatment of medical emergencies
Ventilation systems for maintaining proper atmospheric conditions
Rescue Plans tailored for your entry environment
Tools and equipment for entry to and retrieval from confined spaces
Fall arrest and site-specific PPE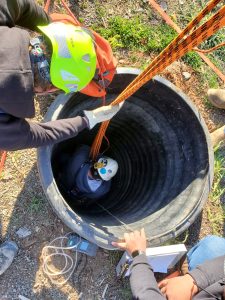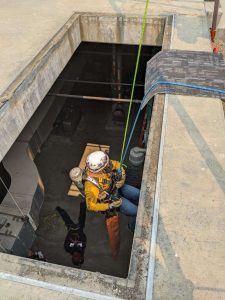 Our team's expertise can facilitate your need to work in hard to reach places. Going over the edge or through a penstock, our technicians have the tools and training to lower and retrieve your personnel. We offer the development of suspension systems and safety lines to quickly afford your team access to places inaccessible by traditional scaffolding.
Contact us with your unique situation and we will work with you to develop an action plan to get you where you need to go.